Read the latest on current projects and trade fair activities of K.U.K.T. Germany


New machinery for your benefit
September 29th, 2013: Start-up of a new 450 ton press with 5600 cm³ injection volume and 670 x 780 mm clamping size, four new 60 ton Joos presses and our new 250 ton press with 3300 cm³ injection volume.
K.U.K.T. at Olympia
Silicone tubes employed at the Coca Cola Pavilion installed during the 2012 Olympic Games in London
K.U.K.T. inceases safety in motor sports
As a "joint-venture" with our client Schroth Arnsberg, we developed a highly complex glued adhesion for Indian rubber covers to enhance seatbelt safety. After the initial co-operation to produce a cover in pure rubber, the manufactured parts were glued on a fiberglass enhanced plastic sheet made by Du Pont®.
As part of our co-operation with Kautschuk- und Kunststoffschule Gelnhausen specialized in Indian rubber and plastics, 25 different types of glue from diverse manufacturers were tested in a technical project to verify their respective adhesive characteristics in both, glueing and tearing tests. On level surfaces, the glueing proved to be repeatable – provided the parts covered with glue are attached to a specific area of their counterpart. In order to be able to cope with even the rough tolerances of the fiberglass enhanced plastic sheets, proper glueing gauges were manufactured in the in-house tool and device department. For the final glueing of the thin elastomer components to the bended plastic parts, K.U.K.T. realized a complex glueing tool, thus proving that we are able meet even the most difficult technical requirements.
Our client Taiyo Europe GmbH, Sauerlach
One of the first solar foil roofs in Europe was realized for Abfallwirtschaftsamt München, the authority in charge of Munich's municipal waste management. The roof was equipped with profiles, round cords and molded rubber and plastic parts made by K.U.K.T.
K.U.K.T. shared joint responsibility to tailor the rubber profile cross-sections to the extruded aluminum profiles with our aluminum partner Interfer Aluminium GmbH, Werl.
K.U.K.T. sponsors sportsters
With the support of K.U.K.T., four runners and trainer Ramona Ehmann of SG Germania, Klein-Krotzenburg, took part in the BMW Marathon. With their joint crossing of the finishing line, the team impressively mirrored the philosophy of our company.
» Future trade fair activities are currently being planned and will be advertised in this news section in due time. «
If you take part in a fair event where we don't maintain a stall, we will gladly arrange an appointment to meet you at a convenient location.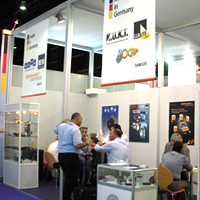 Automechanika Middle East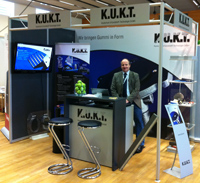 6. Hanauer Lieferanten Tag (local supplier convention)